All for Android, and Android for all! A blog for Mobile Technology enthusiasts and fans of the most popular OS in the world, Android. Im here to prove my point that the overrated iphone is cheap, useless and pointless compared to the worst android device, which is true. Feel free to argue. Check out my new blog: http://yourtechda2day.blogspot.com
Friday, June 28, 2013
Android 4.3 has been sort of , unofficialy released for the new nexus - samsung galaxy s4.

http://www.gsmarena.com/you_can_install_android_43_on_your_galaxy_s4_right_now-news-6292.php
Ok. iOS 7 will have a complete UI overhaul. Most of the icons and ui features have been copied from existing android apps and launchers, and some features have been copied DIRECTLY from android.
let me comment on some of the key features of ios7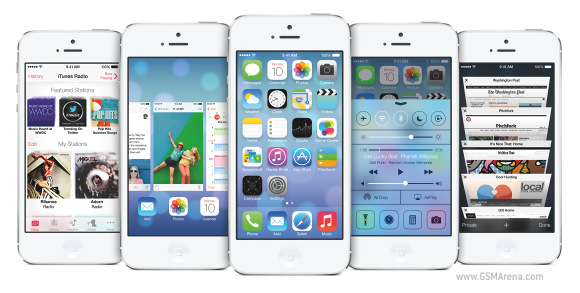 Key features
Complete UI overhaul with adaptive colors and system-wide Back swipe gesture
New system icons and folders, animated icons available

most icons have been stolen from apps like go launcher, and phones like the xiomi mi series and the miezu mx series

System-wide parallax effect
Dynamic wallpapers

live wallpapers...TO LATE APPLE, its been around for freaking ever

Control Center with toggles, multimedia controls and shortcuts

Um, the new android jelly bean quick toggles pannel?

Updated Notification Center with three tabs

just like android and miui

All apps multitasking with new card interface

um, EXACT SAME AS ANDROID, the android multitasking system where it gives you a CARD list of running apps.

Updated Safari browser with unified search filed
iTunes radio
AirDrop file sharing

i tunes yet again, to itunes dependant

Inclinometer within the Compass app

has been invented since like 2008

Camera filters with live preview and new square mode
New Photos app with better photo organization, picture editing

android invented the whole "edit picture" thing since andorid 4.0, 2 years ago.

Weather app with live weather animations
Updated Maps with Night mode and Turn-by-Turn walking directions

i bet they pay google, to use google maps, just renamed

New Siri interface, new supported commands, new voices
Contact Blacklist
FaceTime audio

what the heck, who needs that

Activation lock
Automatic app update

old, android HAS had that since version ZERO

Cellular data usage breakdown
Chinese-English, Italian, Korean and Dutch dictionaries

android has a dictionary for EVERY LANGUAGE, so does windows

iOS in the Car coming in 2014 in selected cars

um...the android car app.
Main disadvantages
Very iTunes dependent for uploading files and multimedia
No open file system means you often have to duplicate files
Limited integration of 3rd party social networks and services
No widgets
Air Drop works only between selected iOS 7 or later running devices
No lockscreen shortcuts (besides those in the Control Center)
Very basic camera UI with limited features and settings
Limited codecs support
iTunes radio only works in the US
Monday, June 10, 2013
Most people thought that HTC would get another go at making the nexus, well, not any longer true. LG will me making the new "Beast". It is quite a machine for the price. It will surpass most smart phones in the world as far as technology, hardware and performance.

Also google has annoucned a nexus 8 to be released to so they will have a 4", 5", 7", 8" 10". what a collection.